What funny coincidences life sometimes brings about. I started reading "Zen and the Art of Motorcycle Maintenance" as one of my travel books because I thought it would be a nice change to the super-easy chick lit novels I also downloaded free onto my Kindle (no shame, I'm on holiday =P), never thinking that I would come anywhere near a motorcycle during my trip through Italy. But here I am, back from an experience of a lifetime, and suddenly have first-hand knowledge of the author's descriptions of letting the motor warm up and gauging the sounds of the machine. My couchsurfing host Antonio is a passionate motorcyclist and took me on a ride along the coastline of Molise, on a road that stretches between the waves crashing onto the shore and the olive groves and vineyards in the back country. Feeling the wind tearing at my clothes, the sun warming my back and (on our way home) the rain drenching me down to the bone, I felt vividly alive, in touch with the country, the nature, the seasons, in ways difficult to describe. Robert M. Pirsig captures it well on the first page of his book, when he says that

"You see things vacationing on a motorcycle in a way that is completely different from any other. In a car" - and I might add, in a train - "you are always in a compartment, and because you are used to it you don't realize that through that car window everything you see is just more TV. You're a passive observer and it is all moving by you boringly in a frame.
On a cycle the frame is gone. You're completely in contact with it all. You're in the scene, not watching it anymore, and the sense of presence is overwhelming. That concrete whirring by five inches below your foot is the real thing, the same stuff you walk on. It's right there, so blurred you can't focus on it, yet you can put your foot down and touch it anytime, and the whole thing, the whole experience, is never removed from immediate consciousness."


My visit to Termoli has been punctured by rain, heavy torrential rainfalls, and as luck would have it, it caught Antonio and me on the motorcycle both on the way from the bus station home yesterday and on our way home today from Vasto, which is the town right next to Termoli with a beautiful old town quarter and a view onto the Adriatic that is incredible. The rain pounding onto the roof yesterday made me equal parts lazy and anxious - I guess some days my type A personality still comes through more often than others. I had wanted to visit the Tremiti-Islands today, a group of islands with little inhabitants and crystal-clear water, but due to the weather forecast decided it wasn't worth the 30 Euros of ferry-fare if I wasn't sure of good weather. A good reminder to slow down, take life as it comes, and stop planning sometimes. Because once the sky inexplicably cleared up around noon, and the sun came out, two things happened - first I appreciated the warmth of the rays much more than any other day of my trip, having been temporarily deprived of them, and second I was reminded to remain spontaneous and, in the literal as well as figurative sense, follow the blue skies ahead. They took us to Vasto today instead of the Tremiti Islands, and oh boy was it a terrific experience, quick rain shower included. The surprising generosity of the weather made Antonio and I appreciate our experience so much more, and the sky as well as the sea looked much more wild and dramatic than when the sun is out and the sky is blue non-stop. Pictures are on my camera, but google images should give you an approximation of what I saw until I can add them in (source http://www.vesuviotour.com/indi/_pics/3/0/holiday-molise_4306830512.jpg, http://insidersabroad.s3.amazonaws.com/regions/Molise/termoli.jpg and http://farm8.staticflickr.com/7110/7710390814_9250382003.jpg).
(the fishing huts really look like this and are super old, but still in use to haul in the catch of the day.)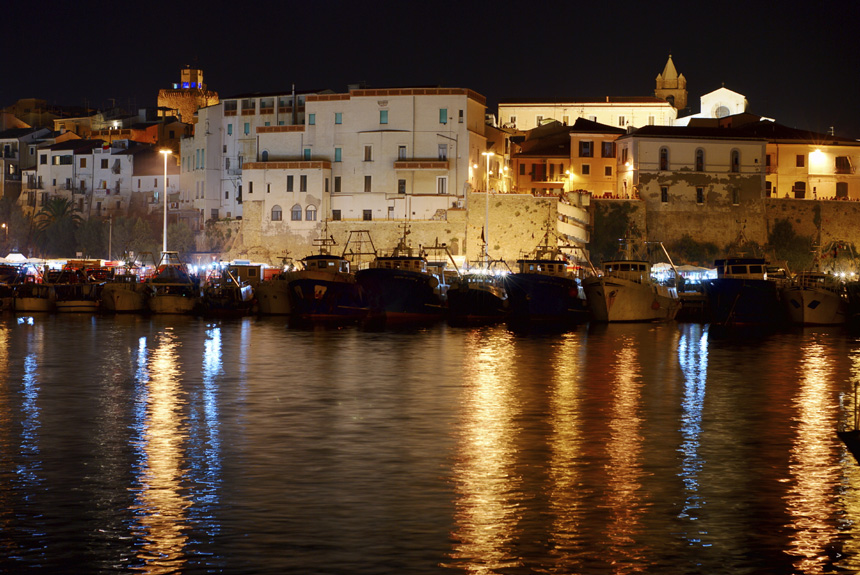 (we also visited Termoli at night yesterday once the rain stopped.)
(this is approximately what the sky looked like, though my photos may not be quite so dramatic.)
See you tomorrow in Bari!
P.S. In case you were wondering, the "occasionally terrifying" was in reference to motorcycle riding on the highway. So cool - (and I totally trusted Antonio, who has.been riding motorcycles since he was 15) - but so terrifying.